Are you really eating "Organic"?
Boxed nut milks are not all they are chalked up to be. They are full of ingredients that are not pronounceable and are not natural to almonds or other nuts.
What should be in your nut milk? Water and nuts, that's all it takes. So what is in your store bought nut milk? Well, read the label (if you can): You'll find words that translate to
stabilizers,


preservatives and

synthetic vitamins
A whole lot of not fresh ingredients!
Are you afraid to educate yourself on what goes in the body knowing that alternatives are easy to find? Or that making it fresh will not be as easy or convenient?
There is a solution!
Organic, healthy, natural living shouldn't be hard. And it doesn't have to be. One change you can make is in what you drink. Milk alternatives made from nuts are not hard to make. They are actually 
easy,

nutritious and

taste naturally great!
I can say the same for juicing. It doesn't have to be messy or require extra machines. Fresh squeezed or blended organic fruits and veggies can be given to your kid with a (very) little extra time and effort. Without
chemicals,
artificial sweeteners and
allergens.
Let Organic Family Products help you solve this problem!
We have an awesome new Organic Cotton Nut Milk Bag and free eBook to get you started on your way to better life choices for you and those that matter most to you! Nut milks, fresh fruit and veggie juices and even cold brew coffee can be make with just this one bag!
Our bag has 5-stars on Amazon and is getting wonderful reviews from users every week. Nutritionists, moms and top Amazon reviewers all sharing their own feedback and giving 5-stars in quality, use, clean-ability and over all performance!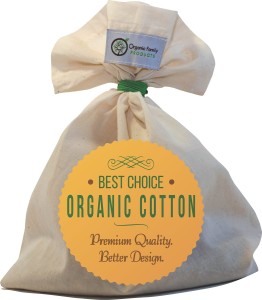 Our bag:
Won't clog with nut meal or pulp or come apart under pressure, thanks to the more durable No Seam Bottom.
It is Eco-friendly and safe for your family. Made from unbleached, untreated, organic cotton muslin and sold in recyclable packaging.
No drawstring to tangle or lose. It is super easy to open and close with our O-So Better patent pending Attached Elastic Loop.
No special care instructions. Rinse and air dry or wash in the machine. Get a free eBook of recipes and tips to get you started.
And buy yourself an O-So Better Organic Cotton Nut Milk Bag today and use this 15% off coupon! Claim Code: ZHK2SOZQ
The Holidays are coming and we can't guarantee the stock to last! So be sure to buy now while it's still available and use your claim code at checkout on Amazon. Just CLICK HERE to buy.
You can eat well and live well! Organic fresh nut milks, juices and cold brew coffee are easy and simple. And you can feel good about the ingredients you are using and eating because you can chose them yourself!
Happy Living!
Sheila