Nut Milk Bag
Our organic cotton nut milk bag is the flagship product in our O-So Better Bags™ line and the first product launched by our small business.
The idea was born shortly after my first child arrived. I was making her homemade formula that involved boiling barley in a muslin bag, taking the resulting high protein water and mixing it with milk and a touch of syrup. She loved it and thrived and it was miles above any of the store bought formulas full of unpronounceable ingredients and loaded with carbs.
But it is somewhat time consuming and super frustrating with the cotton nut milk bags I was using. I had to use cotton, not nylon, because it was boiled plus I didn't like the idea of a petroleum based product to make my baby's food. But if you haven't noticed it, a wet cotton drawstring is terrible: impossible to untie. too much friction to loosen it. And my hands were really full and I was done with the frustration.
An idea! I made my own bag with organic cotton from the fabric store but with an attached elastic loop, instead of a drawstring. I only sewed up the sides because some of the store bought bags I had tried would literally burst at the bottom seam.
Man, did it work like a charm and so handy. I started using my new bag for not just my homemade formula, but nut milk, cold coffee brewing, a food strainer. Basically everything you can do with a nut milk bag but it was so much better.
Another funny thing happened. My mommy friends took notice and wanted one of their own. Oh sure! I happily made them some. Then it became a common expectation among my friends and family that any Mommy-to-be would get some handmade bags at their baby shower.
I was happy to oblige!
And so it went for about 5 years. I thought once or twice about selling them on etsy or something but I was so busy, now with 2 kids and working full time and all.
Then I started hearing about the idea of selling on Amazon.com. The space between that inkling and now was filled with learning, sourcing, testing, getting my big sister on board, and Viola! Organic Family Products and it's first release, the Nut Milk Bag, was launched. Looking much more posh but the same organic cotton, no seam bottom and attached elastic loop.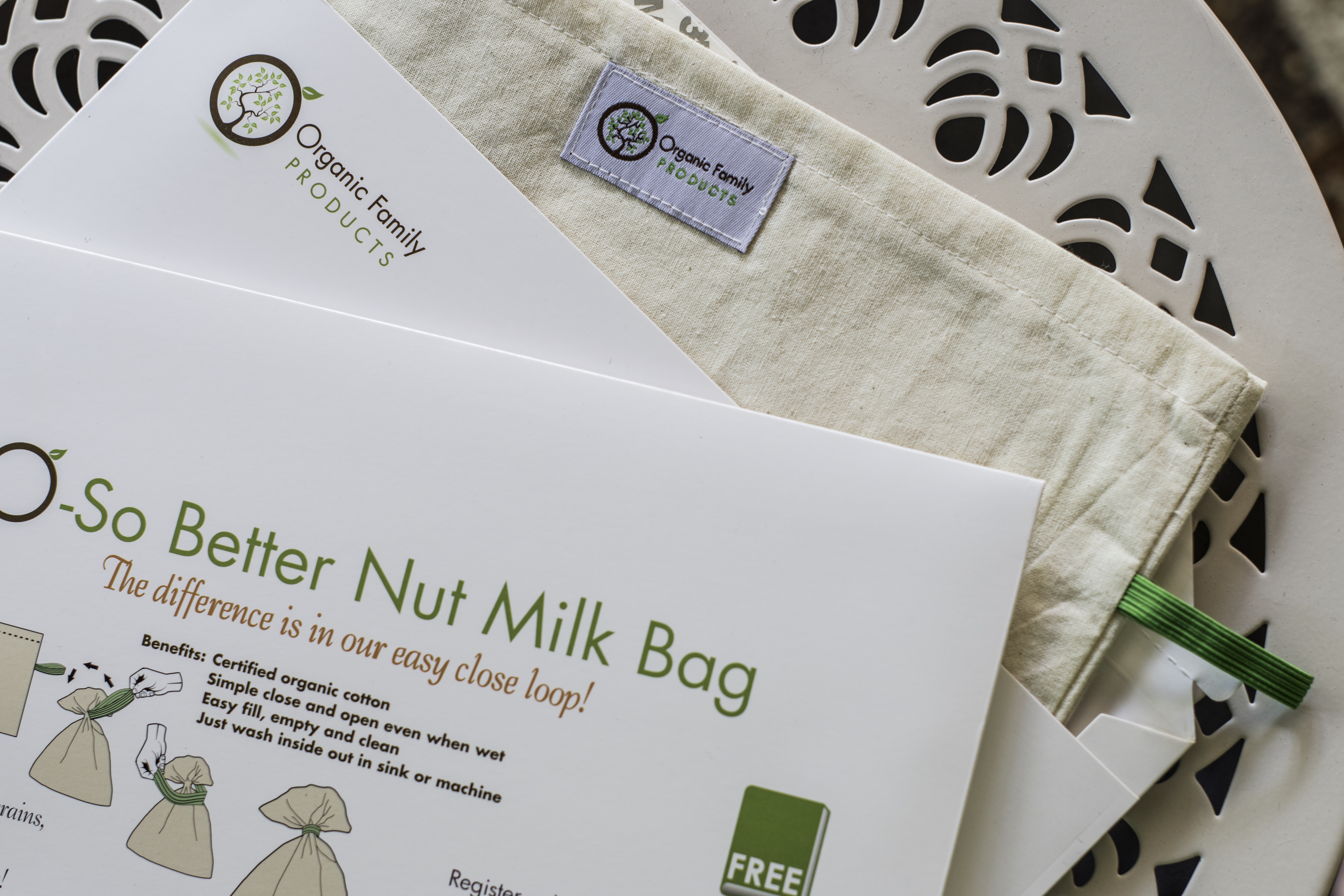 And that's the story of our first O-So Better Bag.
I hope you'll give it a try.
Happy Living! Sheila